I am a day late in getting this up and I apologize but the flu has hit our house and my 2 year old wants to be held a lot.
Monday, I reviewed a book that I am excited to about and am using in my own household this year. That was my pick for a household management book of the year.
Today, I am reviewing a book about you building. Holley Gerth's brand new e-book released yesterday. The "Do What You Can Plan" is a 21 day journey to making your dreams come true. I am truly inspired by this book and I am starting my 21 day journey today. Holley breaks down all the little stumbling blocks that come along and encourages you to look at each one to overcome it and not give up. I know that it says 21 days but really this is the way to do everything in your life. Finishing school, starting a business venture, writing a book, encouraging others through a new blog, and the list goes on. And it makes so much sense. It is like I am sitting across from Holley at a coffee shop and she is talking to me. So I encourage you to buy your copy today and make 2013 the year that you achieve your goals and make your dreams come true. You can buy your copy at
Amazon
or Barnes and Noble.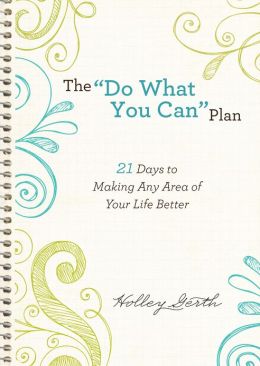 This book will be on my top books of 2013 and it is only Jan 2.
Next week launches the God Sized Dream Team series on Tuesdays and this book will be part of it. I am excited that I am a part of something so huge this year. So on Tuesdays I plan to be bearing my soul when it come to my God Sized Dreams and encourage you to join me in the journey. For now Happy New Year!