IT'S BACK!!!!!!!!!!!!!!!!!!!!!FINALLY!!!!!!!!!!!!!!!! Today we start the second session of Marriage and Mommyhood an In(RL) community with a weekly bloggy link-up. I am so excited.
This session with our In(RL) group we are going to do a study of the book "Desperate" by Sarah Mae and Sally Clarkson (you can tune in Thursdays here for my own series) and we are also going to do a weekly topics taken from the No More Desperate Moms Resolution.
This week is item one- "I will choose to celebrate each day with my children as gifts from God." I have always felt that children were a gift from God and that they should be loved and appreciated no matter what. Does that mean that everyday will be perfect and you will never have a single problem with your children? No, but it does mean that no matter what the problem is that day you need to remember what a precious gift you have been given. Sometimes that will be hard (like when your child breaks something really expensive) and sometimes that will be easy (like when they throw their arms around you and tell you they love you). I know several parents who have held their children only to have to turn around and give them back to God the same day or even several years later. And all of them say the same thing- as much as it hurt they were thankful for the gift of their child as long as they had them. My children drive me absolutely batty most days and make me wish I worked outside the home again a lot, but I would not trade them for anything. I am grateful for all of them. From the four that are here to the one in heaven that we lost when I was only 10 weeks pregnant. I love all of them. I pray for each of them constantly. (Sometimes that I don't kill them by the end of the day.) I worry about them because I care enough to. I love them unconditionally and I know what love at first sight is four times over. I also know what love is when you have never seen or felt them but you knew they were there. God has blessed me with my favorite gifts on this earth and I am eternally grateful. So I choose to live my life celebrating my children as gifts from God. I hope that you do too.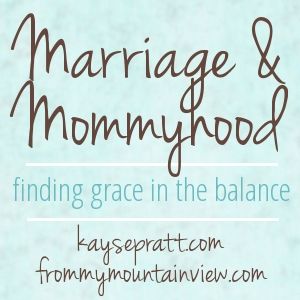 I am linking up today with
Kayse
and Rebecca and the rest of our amazing ladies!