Courtney Joseph of the popular blog "Women Living Well" has now written a book. And a very good book I might add. She addresses topics all across the board- kids, marriage, homemaking, home school, and technology. I want to post this now so that you have the chance to take part in the pre-order goodies available.
The book opens up with Courtney's visit to the Rachel Ray show where her interview is sliced apart to edit out the faith aspect and I have to say it seemed like Rachel Ray was degrading Courtney on her choice to be a homemaker as a profession. But as a stay at home mom I feel like that sometimes. I feel like society does not value the women who stay at home and our work is our family. Courtney addresses all of that. She strengthens the desire to stay at home and raise my children to love God and to believe in Jesus.
And oh the section on marriage hit home big time. Because I get so irritated at my husband and I am guilty of derogatory comments to and about him. And I admit that I am wrong in that. There is a 10 day marriage challenge in this section that is worth the price of the book for it alone.
Courtney speaks in a way that will encourage you while showing you through scripture what the role of a biblical wife and mother should be. This book will inspire you to keep going through the days where you question why.
If you order Courtney's book now through September 30, 2013, you can receive 10 FREE e-books as well. Check it out here:
http://womenlivingwell.org/2013/09/get-10-free-ebooks-when-you-pre-order-women-living-well/
. Head over to Amazon and buy the book here:
Women Living Well: Find Your Joy in God, Your Man, Your Kids, and Your Home
. Courtney is also offering a free video series to go along with the book at her website
www.womenlivingwell.org
.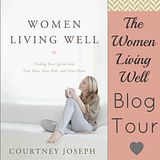 **I received this book as part of the launch team in exchange for my review. All opinions are my own.**