"No Longer a Slumdog" is a captivating book that will grab you heartstrings and not let go. The founder of Gospel for Asia, K.P Yohannan, wrote this book to spread awareness of the suffering that children go through in Asia. Being able to put a face and a story behind the abstract children you hear about on the news is a game changer. These stories are shocking and hearwrenching. But the knowledge that they are real children and that this really happened to them is horrifying. Then there is the knowledge that through Gospel for Asia, these children's lives were transformed. They give you hope that even through the darkest of circumstances there is the hope to overcome.
So here is the giveaway. There is no one winner. That's right! Every single one of you who is reading this post can get a copy of this book for FREE! All you have to do is click
here
.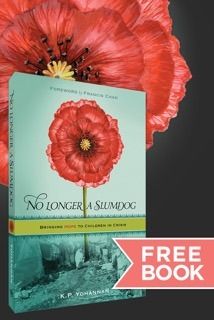 Help spread the word about Gospel for Asia and receive the hope that is "No Longer a Slumdog" by ordering your copy and sharing it today.
**I received this book through FlyBy Promotions in exchange for my review and for offering each of you a free copy.**